The Advanced Cardiac Life Support (ACLS) course builds on the foundation of Basic Life Support (BLS) for Healthcare Providers skills, emphasizing the importance of continuous, high-quality CPR. This advanced course highlights the importance of team dynamics and communication, systems of care, and immediate post-cardiac arrest care. ACLS also covers airway management and related pharmacology.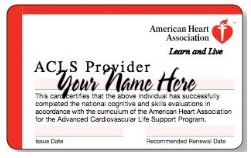 The ACLS course is for healthcare professionals who either direct or participate in the management of cardiopulmonary arrest or other cardiovascular emergencies.
This includes personnel in emergency response, emergency medicine, intensive care and critical care units such as physicians, nurses, and paramedics, as well as others who need an ACLS course completion card for job or other requirements.
To help students adequately prepare for the ACLS Course, the AHA highly recommends that each student complete the online ACLS Precourse Assessment (link below)

The 2-Day #ACLS certification course covers:
1-Rescuer CPR and AED use

Science Overview (Update Course)

Team Dynamics

BLS and ACLS Surveys

Immediate Post-Cardiac Arrest Care

Airway Management/Respiratory Arrest

Peri-arrest Rhythms (Tachycardia, Bradycardia)

Arrest Rhythms (VF, PVT, PEA, Asystole)

Acute Coronary Syndromes (ACS)

Stroke

Megacode treatment
Prepare for Class: Please review the below algorithms (they are in the book as well), its highly advised you download and study them as well as take the Pre-Test:
Students must hold a Current American Heart Association BLS for Healthcare Provider CPR card to take the course. If expired, you must complete the BLS for Healthcare Providers course completion challenge testing during the Advanced Cardiovascular Life Support (ACLS) and written exam, an additional $32. If you do not have an American Heart Association BLS Healthcare Provider card you must take a full course.
Students must pass a written exam and megacode skills test in order to qualify for an ACLS Provider Course Completion Card. Course length Approximately 12 hours for 2 day certification, and 6 hours for 1 day recertification.