Finally you can get your ACLS, PALS, and BLS certification completely online!
Recert911 is based in Kingwood, Texas and we provide in-house training to anyone in the Greater Houston Texas area.  But we know thousands of Healthcare Professionals around the country are looking for the best and most efficient ACLS, PALS, and BLS certification and re-certification.  So we now offer all students an all-online way to get ACLS, PALS, and BLS certification and re-certification.  If you want to save time, get your certification at home, at your own pace, then this option is the best for you.  Using the Advanced Medical Certification online ACLS, PALS, and BLS courses, we can give you the best prices anywhere…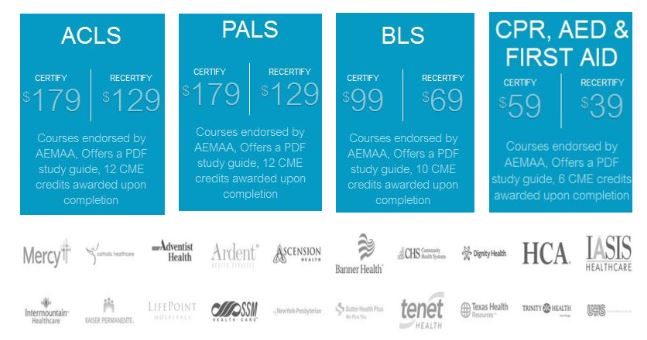 Trusted courses on

your

schedule
Advanced Medical Certification online courses were designed by, and for, practicing medical professionals. Not only do they strive to provide the most relevant and useful information possible, they also strive to provide the most convenient option available. Every aspect of their courses can be completed online and there is no required skills training. Health care professionals finally have the freedom to take their courses at their own pace, without disrupting their already busy schedules.

*All of their courses adhere to the most recent American Heart Association (AHA) standards and guidelines, and have been fully accredited by the American Emergency Medical Advisory Association (AEMAA).
Click on the Banner below to get started.