Bag Valve Ventilation
January 26, 2015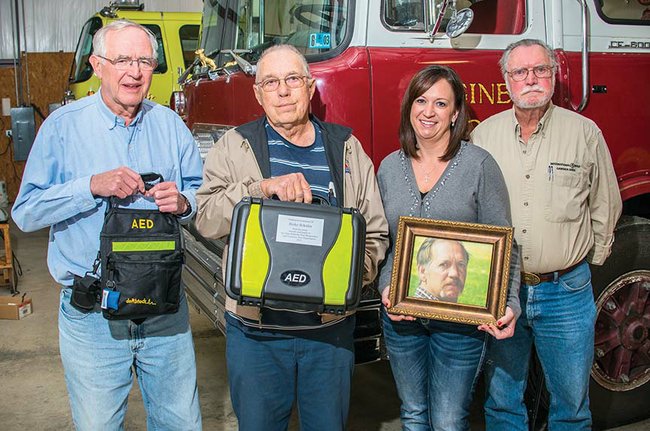 Heart-attack victim's daughter donates lifesaving equipment to fire department
January 28, 2015
When Is BLS Recertification Required?
Basic Life Support or BLS is typically required of health care professionals, first responders, teachers, and child care workers. These individuals must usually receive the training before they are hired and then go through BLS recertification each year.
Those who are required to receive BLS are typically in a field which has some degree of risk or liability. These individuals may be medical workers, including doctors, nurses, dentists, CNAs, and medical assistants.
Others who need BLS certification are fire fighters, police officers, school bus drivers, and life guards. Some jobs even require an individual have BLS certification as part of their job requirements. Others are required to have certification as a result of association membership, national or state regulation. Many of these professionals are required to have BLS training and certification by their employer.
BLS certification verifies that an individual is trained in CPR and demonstrates a certain required level of competency. These skills include giving CPR to a person suffering from a cardiac arrest. BLS certification within the United States does not provide permission to actually administer CPR nor does having certification means an individual is required to provide care.
BLS certification
simply means an individual has been trained to give CPR and has demonstrated the minimum competency and passed the exam. This competency is based on standards set by the ECC and ILOR, as well as the American Heart Association.
It is important to get accredited BLS training and certification in order to learn and understand the up-to-date and consistent guidelines as defined by the American Heart Association. Even with these guidelines, courses may vary, although each should meet all certification requirements.
Another important factor is to get a good instructor. Instructors can make a huge difference in the success of a class. Instructors for BLS recertification classes should follow the national curriculum, making the best of all available training time. They should not be late or miss class and should ensure they teach all sections of the course.
Since BLS is the emergency level of medical treatment used when a victim suffers a cardiac event, it is imperative that certification training be thorough and complete. The BLS procedure actually helps circulate a minimum amount of blood throughout the victim's body. This slows or minimizes the possible damage to the victim's heart.
Even though BLS is not a sustainable way to keep someone alive, it does buy valuable time for emergency responders to arrive. A victim of heart attack who receives BLS right away has a significantly better chance of surviving.
The BLS process is simple and straightforward. There are the ABC's of CPR. "A" means airway and reminds the person performing the BLS to clear the airway so that the victim can easily get air. "B" stands for breathing helping ensure the practitioner breathes into the victim's mouth to oxygenate the blood. "C" stands for circulation meaning the BLS provider should compress the victim's chest so the blood circulates throughout the body.
Individuals who required BLS certification will usually need to be recertified every year. These individuals are typically in jobs which include a certain degree of risk, including medical professionals, first responders, teachers, and life guards.